Before applying for jobs or internships – take sometime to clean up your resumes and social media Career Development – Resources for Resumes and Social Media
Volunteer for Work Experience
---
On-Going Gigs – Apply to be added to their crew calls
Dallas 
Absolute Entertainment is a Dallas based production company specializing in high end private and corporate events.  We are seeking audio and lighting techs. New or experienced, we'd love to talk to you. No white glovers, locals only. Please send all resume's and inquiries to production@absolutedfw.com
Orlando Area 
Beckie Campbell is the owner of B4MediaProduction, a growing production company, supplying anything from a small corporate set-up, medium concert systems. email Beckie at techbex@gmail.com
Los Angeles – If you are interested in doing Stage Hand Work and are based near Los Angeles and surrounding areas. email us at soundgirls@soundgirls.org with your resume and availability.
Los Angeles – Bedrock is looking for techs for the following gigs – please send cover letter and resume to soundgirls@soundgirls.org
Live Engineer Requirements:
– Flexible availability
– Friendly personality
– Great troubleshooting skills
– Proficient in analog and digital mixing consoles
– Ability to setup/tech backline and DJ equipment a plus
I can also use more people interested in backline tech or cartage crew. The same person can do any combination of these positions (provided they meet the requirements) to increase their personal workload/income.
Backline Tech requirements:
– Flexible availability
– Friendly personality
– Setup all backline (Drums, Amps, Keys, DJ Equipment, etc.)
– Troubleshoot equipment
– Ability to identify issues with equipment (i.e. Reverb out, Tube issues, Impedance mismatch)
– Drum head replacement and tuning a plus (potentially extra work for this)
Cartage Crew Requirements:
– Flexible availability
– Friendly personality
– Can lift a minimum of 40lbs.
– Great organizational skills
– Must have driver's license
– Comfortable with driving a cargo van and small trucks (u-haul type)
– Basic knowledge of backline setup (amps, drums, hardware, etc.)
---
Los Angeles – Bigger Hammer Stage Hands – Apply Here
Europe – Wanted Hands – Stagehand Work
New York – Freelance AV Technicians
Operate and maintain the integrated audiovisual equipment in Conference Centers and other meeting rooms. Work collaboratively and proactively with internal and external customers and  event planners to facilitate their multimedia needs and ensure service delivery to company standards. Set up, maintain, and operate the  Set up, maintain, and operate the integrated and stand-alone DLP projectors displays, sound systems, Audio/video conferencing units, Audio/Video digital recorders and switchers, wireless microphones and PC/Mac computers. Jobs are located in NYC.
Fela Davis info@23dbproductions.com
---
Our goal at Warner Music Group is to provide unique and nuanced experiences for all levels of college students across the globe. We currently offer student specific opportunities in our United States and UK offices, as well as remote college marketing representative opportunities across the United States, as part of our Warner Music U program. Please learn more about each program here
---
Intern at Rock n Roll Hall of Fame – Roadies (volunteers) have the unique opportunity to contribute their gift of time and talent to the Rock and Roll Hall of Fame Library and Archives. While there are limited volunteer opportunities currently available; applications are always accepted. We will contact prospective applicants who have the appropriate skill sets and availability when an opportunity arises.
---
March 19, 2018
Washington DC – Shakespeare Theatre hiring several positions including mix engineer
I.A.T.S.E Local 134 based out of San Jose, California will be experiencing an EXTREMELY HIGH volume of work starting in April and continuing thru June. Local 134 will be accepting resumes at the email address listed below. We will be accepting resumes for all skill sets.
General Stagehands, Riggers, Climbers, Audio Visual Techs (all areas), Moving Light board programmers specifically Grand MA ops, Lift Drivers (fork, boom and scissors), stage electricians and carpenters and audio techs. Lift drivers and riggers will need to show proper certificates and training documents. Are you an ETCP certified Rigger or Electrician? Even Better!!
If you have worked with ANY Labor Group that covers stage work in or out of the area such as Rhino, JTPro, VTS, Stage Monkeys or any other AV companies we welcome and encourage you to send in your resume. We have several large events coming into the San Jose area during the rest of 2018 and into 2019. We would love to hear from you…..Thank You! Please send resumes or inquiries to resume@iatse134.org
and we will reach out to you.
Google – Audio Systems Engineer
Liverpool / Northwest UK based TM/Driver Liverpool Band Vans are looking to expand their database…. FOH/Backline tech experience always a bonus but not essential. send a  message through their page
March 16, 2018
Intern – Volunteer Opportunity to work on a podcast.
The Survivant Organization and is looking for a couple of audio editors/engineers who can help with a podcast. The podcast will focus on issues affecting girls and women around the world in an effort to raise awareness and promote equality, with both serious and hilarious topics covered. This is an unpaid gig, but it would be perfect for an intern looking to add to their resume while helping out a great cause, or for anyone looking to be the part of something empowering and impactful.
contact jenni.coble@gmail.com
QSC is hiring https://recruiting.ultipro.com/…/68c22f26-70e6-ad4e-b2a8-…/…
March 14, 2018
Watchdog Management, with support from the BC Music Fund, is pleased to present the Women in Music Management Mentorship Program. Watchdog Management is committed to providing guidance and resources for the next generation of managers who are women, working toward creating gender parity in the music industry.
The Women in Music Management Mentorship Program is a full-time, six month paid mentorship for developing and/or aspiring managers. The successful applicant will join the team at Watchdog Management and will be given daily guidance and mentorship, access to information, infrastructure and resources both internally and externally, along with hands on experience managing an artist. In addition to daily guidance from Watchdog staff including GM, Sarah Fenton, the mentee will have one-on-one mentorship meetings with successful women in the music industry across all sectors, including publicity, business management, music supervision, legal, A&R, live touring, event promotion and production, video production and more.
Applicants should email a resume and cover letter outlining why they would be a fit for the program along with short-term and long-term career goals. Applications will be accepted until Monday, April 2nd at 9AM PST, and may be sent to info@watchdogmgt.com.
The internship will commence on April 30th, 2018 and will run for six months. The successful candidate must be available in Vancouver for the duration of the program. More info can be found at www.watchdogmgt.com.
Successful applicants will be contacted for an interview. There is an honorarium associated with the position, but if you are an out of town applicant and would need to relocate, travel or moving costs will not be covered under the program.
Mentors include:
Joëlle Bertrand: Director A&R, Universal Music Canada
Natasha Duprey: Music Supervisor, Must Be Nice Productions
Jen Fritz: Publicity Director/Owner, Fritz Media
Mavis Harris: Owner, Publicist, Nice Marmot PR
Margaux Hennebery: CPA & Manager, Entertainment Group, DMCL Chartered Professional Accountants LLP
Shannon Luttmer: Label Manager, The District
Catherine Runnals: President, Brand Live
Amanda Schweers: Agent, The Feldman Agency
Cherie Sinclair: Owner & Executive Producer, The Field
Darlene Tonelli: Founder, Inter Alia Law
Gillian Tringham: Project Manager, Producers & Songwriters, Watchdog Management
And more to come.
About Watchdog Management:
Watchdog Management is a globally successful full-service artist management company whose focus is on developing the next generation of career musical artists and managers. The company's passion is finding a way to successfully marry great artistry with innovative business practice. Clients include Mother Mother, Corb Lund, Big Wreck, Peach Pit, Little Destroyer, The Man Who, Weathers, producer Brian Howes, songwriter Jim Vallance and more.
Watchdog Management is committed to increasing diversity within the company and across the music industry; and encourages applications from a broad range of women including women of color, Indigenous women, femme, non-binary and trans folks, LGBTQ2, people with disabilities and/or neurodiversity, women of any age and women of any religious background.
Watchdog does not discriminate based on non-merit factors. If you need assistance or accommodation due to a disability, please contact us by phone (604-734-5945) or by email. watchdogmgt.com
March 13, 2018
Grand Performances is currently looking for crew for our summer concert series in Downtown Los Angeles.
Intern – Washington DC – Sirius Radio
Kansas – Audio Engineer for Garmin
Playa Vista, CA – Senior Audio Engineer
Apple – Audio Systems Engineer
dbnAudile Due to expansion, dbnAudile have four vacancies for competent, experienced and flexible personnel who are physically fit and want to join our busy Operations Team.
• Cable Technician – To work in our busy Cable Department to carry out the prepping, de-prepping and maintenance of cable for shows and events. An understanding of electricity and previous experience of PAT testing is required.
• PAT Tester – Part Time – 3-days per week (24 hours) – To assist our Cable Department with ensuring the safety of our equipment by undertaking the testing of cable to our set standards.
• Driver – To work in our Logistics Department, primarily driving 3.5t long wheel base vans, however candidates must be able to drive 7.5t trucks and will assist in other departments. A clean driving licence and knowledge of Greater Manchester is essential.
• Service Technician – To work in our busy Technical Department, which services Lighting and Sound equipment. This position specifically requires a candidate with competence in servicing and preparing video equipment for hire.
Full time working hours are 09:30 to 18:00 Monday to Friday and the part time vacancy is 09:30 to 18:00 Monday to Wednesday. However all positions require a certain amount of flexibility in terms of working additional hours and at weekends and occasionally working onsite.
Competitive salaries and benefit packages are offered and we are an equal opportunities employer.
Over the coming months, and in line with our expansion, we will be moving our company to larger premises in Trafford Park.
To apply, please email your CV and covering letter to Alan Brown – jobs@dbnaudile.co.uk – closing date Tuesday 3rd April 2018.
March 12, 2018
Microsoft Audio Software Engineer
Boston – AV  Meeting Specialist
Florida – Disney is Hiring Full Time Stage Techs
U.K. Junior Sound Designer
Stockholm – Sound Designer – Voice Over
Georgia – Senior Sound Designer
March 6, 2018
Cardiff – The Tramshed in Cardiff is looking for freelance sound and lighting engineers to join their pool of staff, must have experience in working in a professional venue of this size and be able to supply references. There is a varied mix of gigs and corporate events. We have work starting in March and onwards. If you are interested please send a CV with a cover note to phil@tramshedcardiff.com
Royal Albert Hall Production and Technical Technician (Apprentices)
U.K. Archival Specialist
U.K. LCM Theatre technician/Demonstrator
Andover, Massachusetts Audio Tools Programmer
March 5, 2018
Sound & Video Resources Technician (x1 Permanent, x1 12 Month FTC)
The National Theatre are currently recruiting for the following:     Sound & Video Resources Technician (Permanent)
Sound & Video Resources Technician (12 month FTC)
The Sound & Video Department is made up of operational staff responsible for realising and maintaining the Sound & Video designs for productions and other events in repertoire and a resources team of technicians who manage and maintain equipment providing support to productions on-stage and off in other areas across the NT as well as managing, operating and supporting a fully-equipped recording studio.
The Sound & Video Resources Technician provides consistent technical support to the National Theatre. This role includes responsibilities across many different areas of the organisation. The role would suit someone who is an all-rounder, with great personal skills as well as technical knowledge.
For further information on this position and to apply please visit our careers page: http://jobs.nationaltheatre.org.uk/
The closing date for the receipt of completed application forms is: 12pm Wednesday 21 March
For any queries, please contact the HR Department by emailing: hr@nationaltheatre.org.uk
We encourage applications from all sections of the community and in particular those which are currently under-represented at the NT including BAME & disabled candidates.
HR Department
2018
March 1, 2018
New York City – Internship
"Five OHM Productions is seeking a part-time AV Intern (15-20 hours per week) to support theatrical, podcasting, and internal projects. Applicants should have some basic audio engineering experience and a willingness to learn new skills on the job. Based on performance, possibility to independently manage small projects and potential for future paid work. Please submit a resume and cover letter outlining your work experience and goals to nicole@fiveohm.com. Five OHM Productions is a full-service production company specializing in audio/video and based in New York City. www.fiveohm.com"
Santa Monica – Senior Sound Designer
Kansas City – Live Event Warehouse Technician
$13 / hour
Full-time
The Harvest Production Warehouse Technician is a task oriented position. Warehouse technicians report directly to the Warehouse Manager, but are also to assist production managers and full time Harvest employees at Harvest's management's discretion. Warehouse technician's tasks are divided into general warehouse upkeep, shipping and receiving, inventory processing (receiving, checking, putting away, prepping and repairing), "Out the Door Rentals" (OTDs) and trucking.
Job Tasks
• Upkeep
o Interior upkeep including weekly sweeping, mopping, and trash in all warehouse spaces, other cleaning as needed.
o Exterior upkeep including lawn and parking lot care.
• Shipping and receiving
o Receive and process incoming shipments daily.
o Prepare and process all outgoing shipments daily.
o Maintain accurate shipping records and create daily/weekly shipping reports.
• Inventory processing
o Accurately prepare equipment for shows and assist production personnel with their needs.
o Carefully receive equipment, check it in, test it, and put it away.
o Assist in inventory repairs.
o Assist in monthly inventory counts.
• Out the Door Rentals
o Prep small equipment rentals accurately.
o Professionally assist customers.
o Receive and account for returning equipment.
• Trucking
o Get and maintain Class B Commercial Drives License. Harvest provides training.
o Drive truck for transferring equipment between warehouses.
o Make deliveries and pickups for scheduled equipment.
o Manage warehouse docks and assist loading and unloading.
Expectations
• Careful attention to detail.
• Takes ownership of all warehouse cleanliness and takes immediate action.
• Takes interest in equipment and learns how to test and operate each piece.
• Able and willing to function on tasks as part of a team or individual.
• Able to take initiative without direction and able to pick up and drop assigned tasks due to higher priority interruptions.
• Lift 50 to 75lbs
Qualifications
• Basic computer skills, word, excel, outlook, shipping software, gear software
• Class B CDL, have or obtain within 90 days of hire date.
• Audio visual and live event experience/ industry knowledge is a bonus.
Harvest produces a wide range of live events, from Corporate Meetings to Concerts, and operates in many venues in the Kansas City area, including KC Live! At Power & Light District, Kauffman Center for the Performing Arts, and Bartle Hall! The Harvest warehouse is located just north of downtown KC.
Harvest Technicians get hands on experience with industries top sound systems, lighting rigs and video equipment. No experience is necessary, if you have the passion to learn and like working in a creative, challenging and a rotating work environment, we want to meet you! Please send us your resume by email to set up an interview. Solutions@HarvestKC.com
---
Feb. 22, 2018
Perth AV Tech
Melbourne AV Tech
Melbourne – EXPERIENCED AUDIO VISUAL TECHNICIAN
U.K. UE4 Audio Artist
The Media Cadetship is a new 12 month cadet program which includes:
Work placements in areas such as Television Production, Local Radio, Triple J, Radio National, Asia Pacific News, Regional News and Radio, Audience Technology and Digital Design, and our Content Ideas Lab.
On the job training, two training 'boot-camps' and specific skill training personalised to your career interests
An opportunity to work in a small group to produce a piece of ABC content
A mentor
A salary circa $50k p.a. + choice of 15.4% super
We will do all we can to support you in successfully obtaining a role at the end of the program.
Cadetships /opportunities are available in Sydney, Melbourne, Brisbane, Perth or at one of our Regional locations.
---
U.K. Audio Intern at Criterion
Sweden – Voice Over Intern at EA
---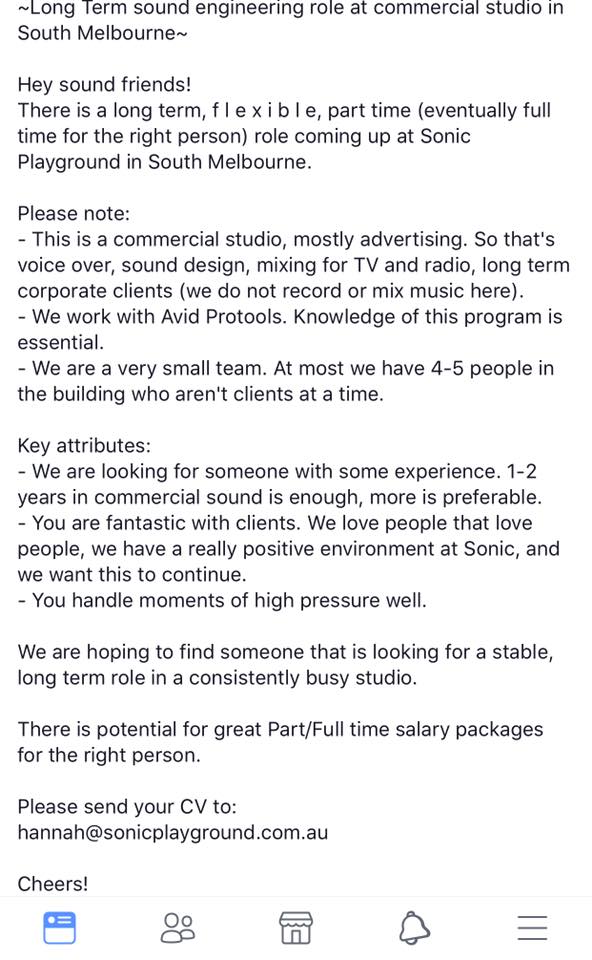 Feb. 21, 2018
U.K. Vans for Bands are looking for experienced van drivers to help with delivery and collection work, as well as driving clients on tour. For more information please email a CV to splitters@vansforbands.co.uk.
Portland Oregon Stage Manager/ Board Operator Needed
Tech Date- 3/21, Performances 3/22-3/25
Drama of the Gifted Grownup is looking for a non-equity stage manager/ Board operator for our Portland, OR performance dates. New York artist and Musician Rosalinde Block is bringing her solo show to the Triangle Theatre and to the Shout House for a special engagement of performances from March 22-25, 2018, with a technical rehearsal on March 21.
https://www.facebook.com/DramaOfTheGiftedGrownup/
https://www.rosalindeblock.com
Please submit a resume and application letter to Maggie@bluepantherproductions.com for consideration for this position.
Seattle – Game Audio Designer
SuperMassive Games Audio Designer
Lecturer/Senior Lecturer in Creative Audio Programming and Computer Music Systems The University of Edinburgh
Feb. 20, 2018
Children's Theatre Minneapolis Assistant Technical Director
Live Nation Assistant General Manager O2 Forum Kentish Town – London
Feb. 15, 2018
Sydney
Trainee Audio Visual Technician – Live Events!
Sound & Audio Visual Technician
Audio Visual (AV) Event Production Technician
Canberra
Melbourne
Brisbane
Casual and Freelance Audio Visual Technicians
Technical Coordinator (Lightin
Gold Coast
Western Australia
Senior Technician – Audio Visual & Lighting
Darwin
Podcast and Radio Producer (Part-time)
Tasmania
Audio Visual Technician/Exhibition Production Team Coordinato
Feb. 14, 2018
U.K. – We're looking to expand our database of freelance engineers! We're particularly looking for people with experience mixing larger scale shows with a mixture of live input and playback. Experience with LX and backline is also a massive plus, being based in South Wales or the North is also helpful. Drop an email to Gavin@Ratio-Studios.com to introduce yourself if interested!
TM GIG Waiting for more info, but if you are TM that has experience with multi bus/truck tours send resume and cover letter to soundgirls@soundgirls.org. will post additional info when I get it. They want a woman.
Feb. 13, 2018
Intern at NPR Summer 2018 Research, Archives & Data Strategy-Reformatting Intern- Summer 2018
Feb. 12, 2018
House Tech at Stanford
U.K. Senior Sound Designer Audio Horsham, United Kingdom
Orlando – Audio Artist
Producers – Get in touch if you are interested in this project. email contact info and resume to soundgirls@soundgirls.org
Young singer-songwriter who to date has self-produced her tracks, but is now looking to work with a producer to take her music to the next step, along with adding some electronic elements to her sound.
Her inspirations are Sara Bareilles, Phoebe Bridger and Maggie Rogers. Putting together a list of potential producers to contact for her.
If you've produced for or with these artists, know someone who has, or has experience producing with artists similar to these, please get in touch.
We're not gender-biased, any and all welcome, but I also wanted to note that so far there are no women producers on that list! We'd like to change that.
Feb. 10, 2018
Sound Design Intern at Sony Interactive Entertainment PlayStation
Feb. 9, 2018
Looking for multiple technicians to take freelance and short term contracts with Scarlett Entertainment in Dubai.
MUST ALREADY LIVE IN DUBAI-PLEASE NO UK APPLICATIONS.
We are looking for the following freelance persons:
Lighting designers and technicians
Sound designers and technicians
Video designers and content creators
Costume and wardrobe managers
Props makers
Costume makers
Stage managers
Make up artists
Stage/technical managers
Musical directors
Choreographers
Must be experienced in your field and be able to work quickly and efficiently with the rest of the teams.
Please get in touch and send CVs/portfolios/showreels with Kate Hall -Production Manager on Kate@scarlettentertainment.com
Feb. 8, 2018
Vancouver – Indian Summer Festival Positions
Feb. 6, 2018
Sound & Audio Visual Technician – Sydney Opera House
Staging Operator – Sydney Opera House
Job Openings at Shakespeare & Company
Production Department Positions
Melbourne
Music Production / Audio Engineering Lecturer
AUDIO ENGINEER /Sound Mixer/Recordist
Adelaide
Canberra
 Perth
Senior Audio Visual Technician
Sydney
Brisbane
Poland – Audio Director
Playstation – Job Openings – Several positions- Several Internships
Box Truck Driver & A/V Warehouse Technician Part-time job Mastermind Production Group Inc. is an Audio Visual rental and full production house that serves the greater Southern California area.
Feb. 2, 2018
The Ogunquit Playhouse in Ogunquit ME, is accepting resumes for the several poisitions 2018 Season Including A1 and A2s
London based sound techs!
We are looking for casual technicians for our Sound & Video Resources team at the National Theatre to do some casual cover over the next couple of months.
We require technicians who can operate sound and video for corporate and internal events, who have bench tech experience and enough studio expertise to run sessions in our recording studios (mainly voice overs). They must also be happy to take care of general workshop requirements including prep, tidying and storing of equipment. They must be personable and collaborative.
We are also looking for casual backstage show cover/sound number 3 cover.
Please send your CV and a short paragraph telling us what you've been up to lately to Sarah Black sblack@nationaltheatre.org.uk
Feb. 1, 2018
Pacific Conservatory Theater is currently interviewing for summer sound interns. Visit our website for more details! Pacific Conservatory Theatre (PCPA) is interviewing sound interns for our summer season! Come work on California's Beautiful Central Coast for the summer!
Job Dates
05/23/18 – 09/10/18
Pay
Scholarship
Sound Internships: PCPA – Pacific Conservatory Theatre
PCPA, a professional theatre company on California's Central Coast for the past 54 years, is accepting applications for 2018 summer interns in the following paid scholarship positions:
2 Assistant Sound Designers/Sound Technicians
2 Playback Operators/Sound Technicians
1 A2/Sound Technician
Ending dates differ depending on the internship.
Sound interns assist with sound aspects for all summer productions.
2018 Summer Season: THE HUNCHBACK OF NOTRE DAME, VANYA SONYA MASHA AND SPIKE, MAMMA MIA! and ARCADIA.
The summer experience will include opening shows at the indoor Marian Theatre, and transferring them to the outdoor Solvang Festival Theater. Both the Marian Theatre and Solvang Theater are configured as a thrust.
We will be interviewing at the USITT National Conference in Ft Lauderdale, however offers may be given to the earliest applicants who meet the qualifications.
For more information go to: http://www.pcpa.org/cons…/conservatory1/techinternships.html
Click on the orange "Internship Application" button in the upper right hand corner of the screen to fill out the online application and submit your cover letter and resume.
Include in your cover letter your dates of availability.
Contact
Elisabeth Weidner
Sound Director/Resident Sound Designer
eweidner@pcpa.org
http://www.pcpa.org
(805) 928-7731
Fax: (805) 928-7506
Business Address
800 S. College Dr. SANTA MARIA, CA 93454
---